NI Silver's jewellery maker, or Goldsmith if you prefer, is Ruth McEwan-Lyon.

Ruth has an immense passion for creating silver and gold jewellery that enables you to wear your precious memories every day.  Ruth started by creating Northern Irish inspired jewellery of the places such as Titanic Belfast, Giant's Causeway and the Dark Hedges.  Ruth also designs and creates unique, bespoke jewellery which allows you to work with Ruth to design and create exactly what you want.

Ruth also loves to share this knowledge and passion by running beginners jewellery making experiences in her workshop in Holywood.  If you ever fancied having a go at making yourself or a loved one a pendant, a ring, or earrings you would be very welcome to come and join her; you don't need any previous experience to take part.

Our Jewellery Making Experiences can be for one person or a small group up to 3; larger groups can be hosted but please discuss this Ruth before booking.

In between making, we provide refreshments and whilst your work is polishing we even get time for cake or biscuits (or you can bring your own lunch); just rest, relax and simply enjoy the view.  The craic will be great and experiences are available to purchase on the website as excellent gifts for Christmas, birthdays, wedding parties, as a bucket list achievement, for partners, mothers and daughters, fathers and sons or just for you as an individual. 

Ruth is there to help throughout so can do as much or as little to help you finish your piece of work.   So everyone leaves with a completed piece of jewellery. 

"I am a complete novice and was apprehensive about what could be achieved in one day, but Ruth could not have been more helpful. She was extremely supportive and generous with her time, advice and tea and biscuits. By the end of the session, I had learned many techniques and went home with a lovely homemade piece. I will definitely be going back. Thanks, Ruth for a lovely day. - Maureen"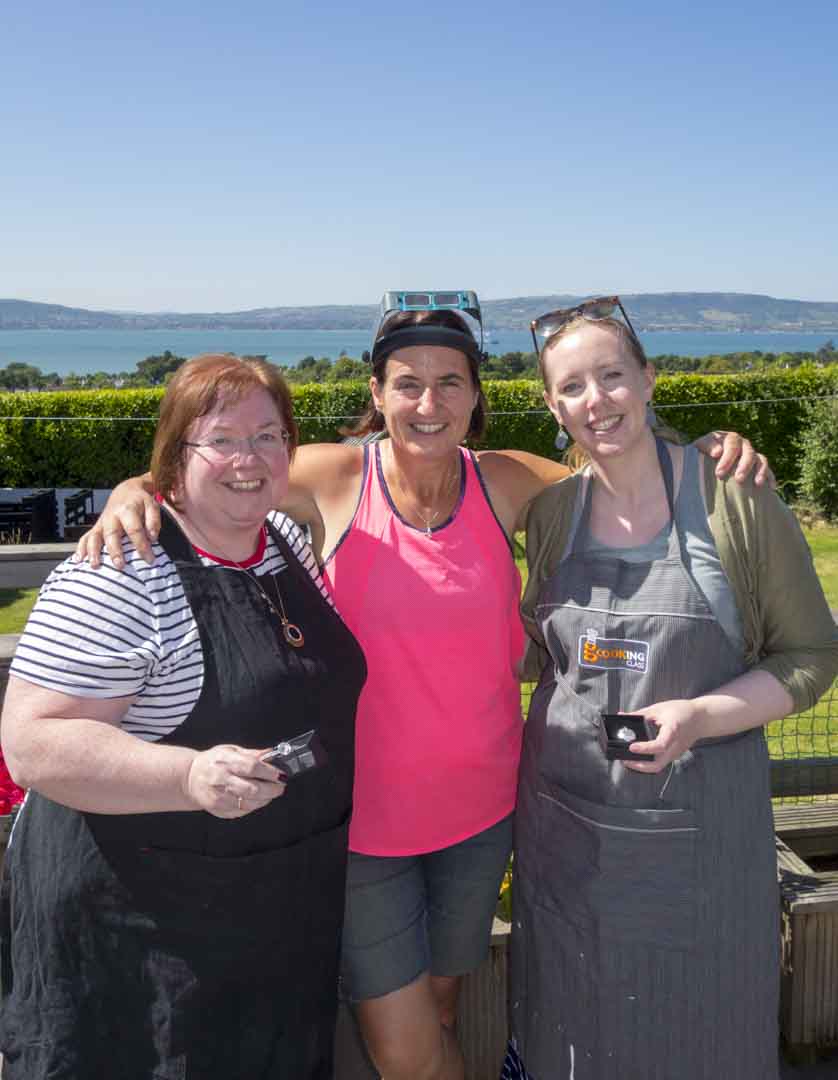 Ruth was inspired to begin making jewellery, after living in Malaysia and visiting their fantastic Georgetown jewellers and spending some time working with the Royal Selangor team forming pewter.
Having returned to Belfast in 2012 and settling in Holywood, she has established herself and the NI Silver brand across Northern Ireland and beyond; creating corporate orders for companies in Northern Ireland and Hollywood (the US one), Dubai and Australia.  Our private bespoke jewellery commissions have been created for people from around the corner to as far as New Zealand. 
One of Ruth's very personal and meaningful creations was a Silver and Glass Crocus pendant, shown below.
From our workshop in the Holywood Hills of County Down, Ruth is inspired every day by the views across Belfast Lough and the Antrim Hills.  The fact that the RMS Titanic would have glided past us and this view, if we were back in time, makes it all the more special.  
Please feel free to get in contact with our jewellery designer/maker Ruth McEwan-Lyon to discuss our Northern Irish Jewellery, a bespoke jewellery commission or to book yourself/your friends and family onto one of our workshops. 
A link to our best selling jewellery is shown below.  Your comments about our website and jewellery designs would always be welcomed. Enjoy!
NI Silver Best Selling Jewellery
Thank You
Ruth and Steve