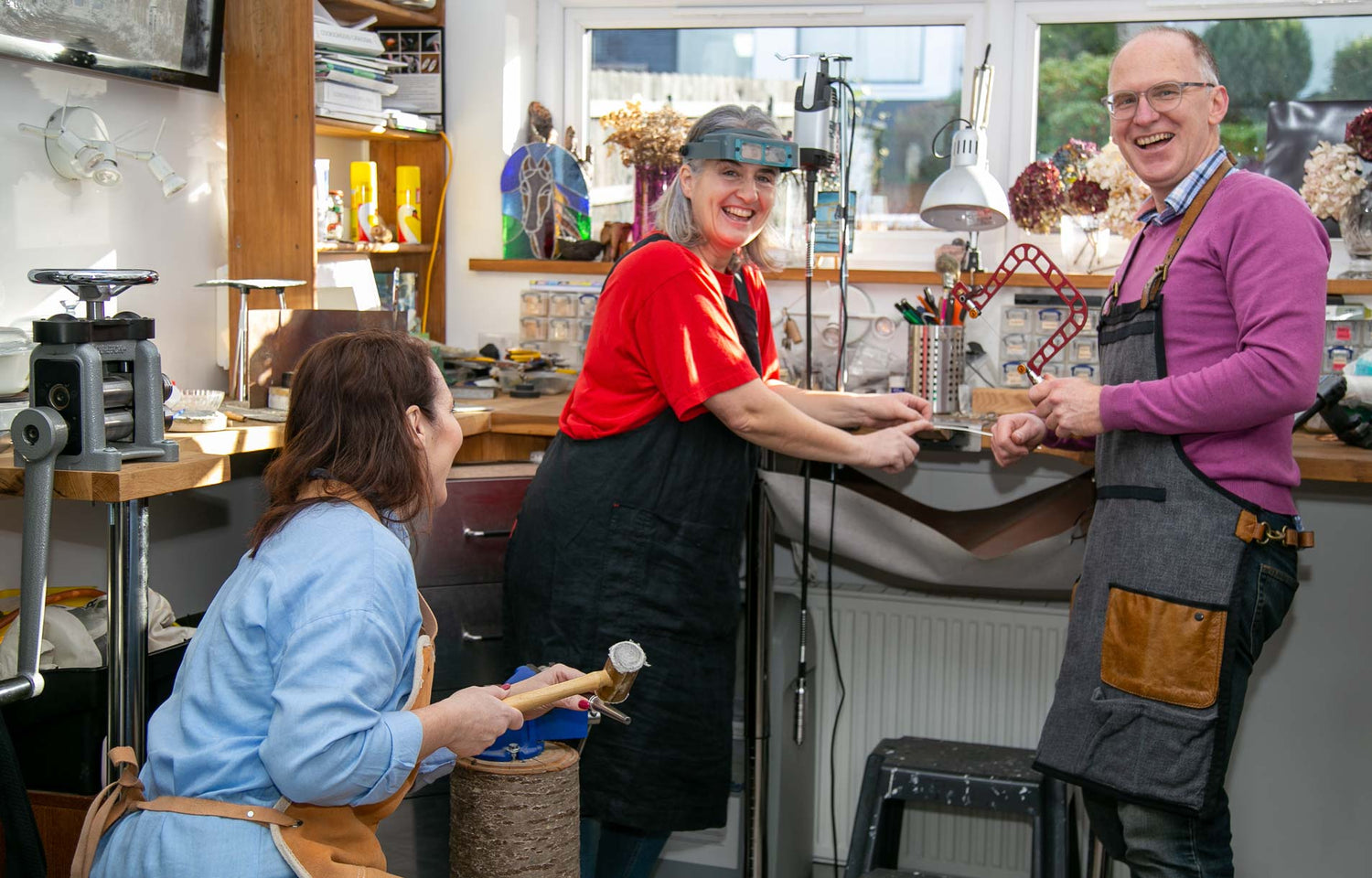 Please feel free to give us your feedback below, it really helps us to grow and also let's new people know what to expect :))
'Hugely accomodating and happy to go the extra mile to deliver during the Christmas rush. The jewellery itself is beautifully crafted and will make for a very happy partner indeed. Ruth was warm and friendly and her communication for delivery made me feel at ease living on the other side of the world. She was even thoughtful enough to include a wee note on the package to ensure it wouldn't be opened before Xmas .Would 1000% recommend. Thanks NI SILVER'
Jacob
'When I needed something special for an important gift I turned to NI Silver who worked with me to make the gift perfect and very personal. Turnaround time was very quick and the item arrived in the Windy City (Chicago) a few days later - absolutely great service and great quality! I would fully recommend NI Silver!!!!'
Paul
'Ruth is a special person who makes special things. My sister and I wanted to have some personal pieces made for ourselves and our daughters, constructed from old rose and yellow gold items of jewellery which was my late mother's. We were delighted with the results. Ruth took great care to make what was commissioned and surpassed our expectations. In addition to that she was a pleasure to work with. I recommend her highly.'
Selina
Hi Ruth thank you for such speedy service! To say I'm happy with the necklace is an understatement!! I'm absolutely in awe of the gorgeous beautiful necklace. Cannot wait to give it to my daughter in law on her birthday.
I was looking for someone to make a bespoke ring for my husband's birthday. Ruth took on the challenge and created a beautiful ring that he is delighted with. Ruth is extremely friendly and easy to work with. Thank you Ruth!
Janice
Ruth and Steve have been fantastic- the necklace is amazing, and customer care second to none- calling from Australia and getting it delivered to the best address and on the best day to suit me was amazing! Very friendly on the phone, and willing to go above and beyond for their customers. I'm very impressed, and will be contacting them again!
Cheers guys
Tadhg
I met Ruth at a craft fair in castleward and it was there my partner bought me "The Beacon of Hope" necklace which I wear almost every day. As a present, I bought the Giants Causeway necklace for my daughter who now lives in England. She is delighted with it as a reminder of N.Ireland. I know that in the future if the need arises I will only be calling Ruth for any silver jewellery.
Many thanks for the help and service received.
Liz
Not only was the Scrabo necklace I ordered beautiful but the personal service was fantastic too.
Ruth kept me up to date with the progress of my order and hand delivered it to my place of work. It was such a surprise to get such great service when ordering over the internet!
Nicola