Lux Beginners Jewellery Making Experience
Jewellery making experience guided by our Ruth with your new jewellery piece either worn home or put into a jute bag with local scones and tray bakes and mini Nosecco to take away.
Cost:
$201.00 – $448.00 per group
About this experience
This LUX beginners Jewellery Making Experience combines jewellery making with the warmest of North Down welcomes. Come, enjoy the craic and hammer off some of the frustration of being stuck indoors for so long.
Guided by our goldsmith Ruth, each person will make their own piece of silver or copper jewellery (you choose) to take away.
Each participant on this 'Lux' experience will also receive their own recyclable jute gift bag containing a mini bottle of Prosecco or Nosecco and chocolates for you to takeaway and enjoy later.
So why not gift this jewellery experience to someone you love, or treat yourself, as we can post your jewellery making gift certificate/s in advance of the workshop.
These are fabulously relaxed and fun experiences, come and spend some quality time with your family and friends on a unique morning out that you won't forget. Then spend the afternoon exploring the Ards Peninsula - we have lots of great recommendations for afterwards.
No experience is necessary for this activity and the memories you make will stay with you forever, as will your new creation.
Timings are normally 10am to 1:30pm but if we run on a bit, no problem.
The workshop is located in the beautiful Holywood Hills, overlooking Belfast Lough, so you can take time to breathe in the tranquillity of your surroundings.
Max of 3 per workshop, however larger family bubbles can be accommodated by special request. Easy to access by car, train, aeroplane and parking available.
If you want to purchase this experience but do not know what day you need or are buying it as a gift for someone else, then maybe a gift voucher is the better option for you?
 Our other jewellery making experiences can be found by clicking on the links below:
(Photo credit - Ards and North Down Council and NI Silver)
What do I need to do next to book My Experience?
Use any of the three options above to select your preferred package, your preferred date, what you want to make,  with who and any special requirements.  We will then get in touch with you via email to confirm the booking. 
Then you can simply look forward to your day out. We normally cater for between 1 and 3 people, but we can accommodate larger groups up to 5 people making jewellery if you have a special occasion to celebrate. Just contact ruth@nisilver with the details.
Studio tours for larger groups are also available where Ruth can talk you through the process of jewellery making. Giving guests an insight into how a professional goldsmith manages the stages of work that go into making a piece of jewellery. 
However, the larger groups will not currently leave with a personally made piece of jewellery, but we are working on that.  
We do, however, have a gift shop so private purchases can be made and all payment methods are acceptable.

Only a camera or phone to help capture your memories and laughter of your quality time with Ruth, your family and friends. All materials, machinery, tools and refreshments are included.
This Jewellery Making Experience lasts around 4.5 hours. The time will fly by and we are relaxed about the timings, so let us know if you have other plans we need to workaround.
Do I need any experience?
No experience is required as Ruth will explain everything and should you want her to will even do some of the bits if you would rather not do. Ruth has a natural talent of putting people at ease and any thoughts of 'I'm not very creative' will quickly disappear as you relax and enjoy the 'Craic' as the laughter levels increase in our workshop.
We are located in the beautiful Holywood Hills, County Down. We will send you our address once your booking has been confirmed. We are less than 10 minutes from Belfast, if the traffic is behaving itself.
You can make texured rings, bangles, pendants or earrings. These experiences have been designed for complete beginners. Ruth will take the time to explain the different making processes before you safely get involved. These experiences have been designed to fit in the 3-4 hours, so unfortunately we do not have time to cover more advanced skills such as stone setting. If you want to use gold or other precious metals please discuss this with Ruth before your experience. (ruth@nisilver.com)
Can I bring my own design?
Of course you can, all we would ask is that you discuss your ideas with Ruth before your experience. This will allow Ruth and you to refine any design ideas, to confirm what is possible within the timescales and also ensure that Ruth has the right materials for you to work with.
Chains are not included with pendants and can be bought separately - sizes 16-20 inch sterling silver snake chains in stock. We also have our own gift shop, just in case you need some other gifts :))
What our Customers Say
The whole experience was amazing from start to finish. Ruth was so friendly and accommodating making us feel as if we were her lifelong friends. We loved making our rings (with lots of Ruth's help of course) and we felt so proud of ourselves. Ruth and Steve welcomed us into their beautiful home and garden and provided us with a delicious array of food and drinks in their outdoor igloo. Overall it was a relaxing, creative and bonding experience which we would highly recommend.

Kerry and her Mum

If you're looking for that unique treat or experience,then a jewellery making workshop with Ruth at NI Silver is a must! I had such a fun time not only watching Ruth demonstrate her skill, but then making my own bespoke silver ring and of course enjoying Steve's great hospitality. What a perfect day!  Thank you.

Anne F,

My husband and I were gifted a workshop experience and we weren't too sure what to expect, but Ruth at NI Silver made the morning an absolute pleasure. She was knowledgeable and funny, chatting away whilst showing us the steps we needed to do, and then stepping back to let us have a good go! We all had a great time and I would 100% recommend the workshop experience to anyone - I'll definitely be back some time for another go!

Megan C
Some Photos from Recent Events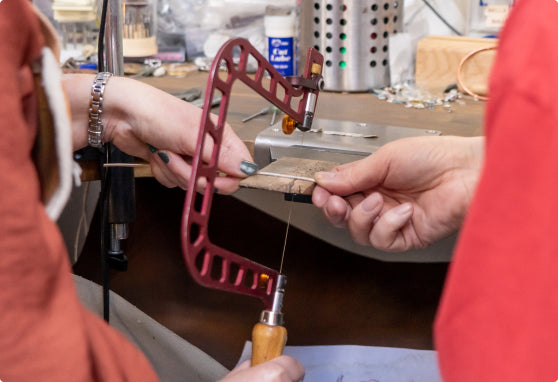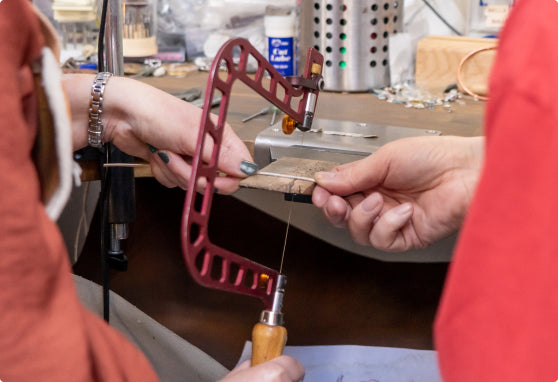 Jewellery Workshops
Regular price

From $169.00 USD

Regular price

Sale price

From $169.00 USD

Unit price

per

Beginners Jewellery Making Experience

A beginner's jewellery-making experience that allows you to take away your own handmade piece of work. One Person £130 Two People £180 (£90 each). Three People £270 (£90 each)

Regular price

From $201.00 USD

Regular price

Sale price

From $201.00 USD

Unit price

per

Lux Beginners Jewellery Making Experience

LUX Beginners jewellery making experience guided by our Ruth with your new jewellery piece either worn home or put into a jute bag with a mini bottle of Prosecco or Nosecco and chocolates to take away. One Person £155 Two People £230 (£115 each). Three People £345 (£115 each)

Regular price

From $240.00 USD

Regular price

Sale price

From $240.00 USD

Unit price

per

VIP Beginners Jewellery Making Experience

VIP Jewellery Making and Relaxation with behind the scenes tranquil time overlooking Belfast Lough. Plus wearing your creation home or putting it into a jute bag with some cheeses, crackers and a chutney plus a mini bottle of Prosecco or Nosecco. One Person £185 Two People £290 (£145 each). Three People £435 (£145 each)

Regular price

From $168.55 USD

Regular price

Sale price

From $168.55 USD

Unit price

per

Beginners Jewellery Making Experience - Gift Card

These are our electronic Gift Cards for the NI Silver Beginners Jewellery Making Experience. These electronic gift vouchers are perfect if you are buying this as a gift for someone else and don't know when they want to come. One Person £130 Two People £180 (£90 each). Three People £270 (£90 each)