VIP Beginners Jewellery Making Experience
Jewellery making experience and wearing your creation home or putting it into a jute bag with some local scones and tray bakes and noseco; hosted time afterwards in our heated igloo.
Cost:
$232.00 – $544.00 per group
About this experience
The NI Silver VIP beginners Jewellery Making Experience and relaxation combines beginners jewellery making with the warmest of Northern Irish welcomes.
Guided by our goldsmith Ruth, each person will make their own piece of sterling silver jewellery, you can choose when booking, and then afterwards get a 'behind the scenes' experience relaxing in our tranquil setting overlooking Belfast Lough and the Antrim Hills beyond. 
During the workshop you will be introduced to basic metal-working techniques but with some more sophisticated skills/machinery in there as well.  Your personal handmade jewellery creation can reflect the blue/green elements of Ards and North Down, from our rolling drumlins to our rippling loughs, encompassing our beautiful scenery.  
Participants will have a go at numerous techniques including piercing, filing, soldering, hammering/texturing and polishing to create a lovely silver or copper ring, pendant, earrings or bangle.
The aim of these enhanced workshops is to showcase one of Ards and North Down's hidden gems, tying in with the heritage of artisan craft and the natural landscapes.
Each guest on this "Craicing" experience will also receive their own recyclable gift bag containing a mini bottle of Prosecco, a selection of lovely local scones and tray bakes that they can take away too.
NI Silver's Northern Irish hospitality will shine through as after our guests have made their jewellery they then are hosted by Ruth and Steve.
Depending on our lovely Northern Irish weather we have 3 possible areas for you to relax in afterwards, all of which have glorious views of the Belfast Hills, down to Belfast Lough and across to the Antrim Hills.
Down in the garden, we can weather permitting, set up our 'igloo' where you can sit wrapped up in locally made blankets, enjoying the fire pit, chatting with us over refreshments and getting to know each other.  We will discuss the availability of the 'igloo' if there are high winds or bad weather expected in the days before your booking.
On our decked area, we have our table and chairs for you to relax around, weather permitting.  This has a great higher viewpoint of Belfast Lough and beyond.
Our bad weather option is to host you in our open-plan kitchen and dining room area, where we will sit around our beautiful resign table which has a slice of a tree through it, looking out through our massive glass doors at the stunning views beyond. 
We are well versed in the local filming industry as we have been 'extras' in many recent productions and we have also travelled a lot, so we will keep you entertained with plenty of craic (chat).  
This experience is suitable for all types of visitors/participants including children accompanied by their parents. 
NI Silver's great location is easily accessible, located 10mins from Belfast in the Holywood Hills, perfect for a special occasion, tying in with award-winning local eateries to create a wonderful day out. Its closeness to other attractions including Culloden Hotel & Spa, Ulster Folk Museum, Helen's Bay, Bangor Museum and Bangor Walled Garden, make it the perfect unique experience for your short breaks or day out.
From the moment you arrive, these are fabulously relaxed and fun experiences, come and spend some quality time with your family and friends on an experience you won't forget.
No experience is required to enjoy this fun day of jewellery making.
So why not gift this jewellery surprise to someone you love, or even treat yourself, as we will post you a gift certificate.
If you want to purchase this experience but do not know what day you need or are buying it as a gift for someone else, then maybe a gift voucher is the better option for you?
Just click on the link below to go to the gift vouchers.
Our other jewellery-making experiences can be found by clicking on the links below:
What do I need to do next to book My Experience?
Use any of the three options above to select your preferred package, your preferred date, what you want to make,  with who and any special requirements.  We will then get in touch with you via email to confirm the booking. 
Then you can simply look forward to your day out. We normally cater for between 1 and 3 people, but we can accommodate larger groups up to 5 people making jewellery if you have a special occasion to celebrate. Just contact ruth@nisilver with the details.
Studio tours for larger groups are also available where Ruth can talk you through the process of jewellery making. Giving guests an insight into how a professional goldsmith manages the stages of work that go into making a piece of jewellery. 
However, the larger groups will not currently leave with a personally made piece of jewellery, but we are working on that.  
We do, however, have a gift shop so private purchases can be made and all payment methods are acceptable.

Only a camera or phone to help capture your memories and laughter of your quality time with Ruth, your family and friends. All materials, machinery, tools and refreshments are included.
This Jewellery Making Experience lasts around 4.5 hours. The time will fly by and we are relaxed about the timings, so let us know if you have other plans we need to workaround.
Do I need any experience?
No experience is required as Ruth will explain everything and should you want her to will even do some of the bits if you would rather not do. Ruth has a natural talent of putting people at ease and any thoughts of 'I'm not very creative' will quickly disappear as you relax and enjoy the 'Craic' as the laughter levels increase in our workshop.
We are located in the beautiful Holywood Hills, County Down. We will send you our address once your booking has been confirmed. We are less than 10 minutes from Belfast, if the traffic is behaving itself.
You can make texured rings, bangles, pendants or earrings. These experiences have been designed for complete beginners. Ruth will take the time to explain the different making processes before you safely get involved. These experiences have been designed to fit in the 3-4 hours, so unfortunately we do not have time to cover more advanced skills such as stone setting. If you want to use gold or other precious metals please discuss this with Ruth before your experience. (ruth@nisilver.com)
Can I bring my own design?
Of course you can, all we would ask is that you discuss your ideas with Ruth before your experience. This will allow Ruth and you to refine any design ideas, to confirm what is possible within the timescales and also ensure that Ruth has the right materials for you to work with.
Chains are not included with pendants and can be bought separately - sizes 16-20 inch sterling silver snake chains in stock. We also have our own gift shop, just in case you need some other gifts :))
What our Customers Say
The whole experience was amazing from start to finish. Ruth was so friendly and accommodating making us feel as if we were her lifelong friends. We loved making our rings (with lots of Ruth's help of course) and we felt so proud of ourselves. Ruth and Steve welcomed us into their beautiful home and garden and provided us with a delicious array of food and drinks in their outdoor igloo. Overall it was a relaxing, creative and bonding experience which we would highly recommend.

Kerry and her Mum

If you're looking for that unique treat or experience,then a jewellery making workshop with Ruth at NI Silver is a must! I had such a fun time not only watching Ruth demonstrate her skill, but then making my own bespoke silver ring and of course enjoying Steve's great hospitality. What a perfect day!  Thank you.

Anne F,

My husband and I were gifted a workshop experience and we weren't too sure what to expect, but Ruth at NI Silver made the morning an absolute pleasure. She was knowledgeable and funny, chatting away whilst showing us the steps we needed to do, and then stepping back to let us have a good go! We all had a great time and I would 100% recommend the workshop experience to anyone - I'll definitely be back some time for another go!

Megan C
Some Photos from Recent Events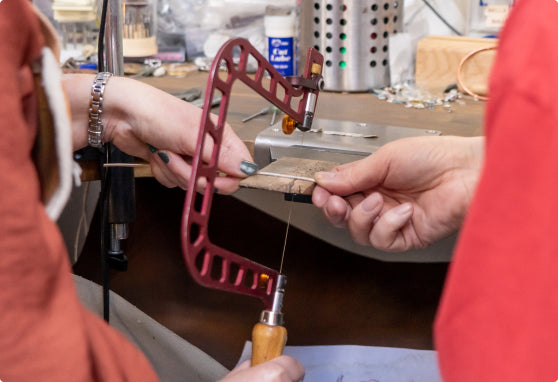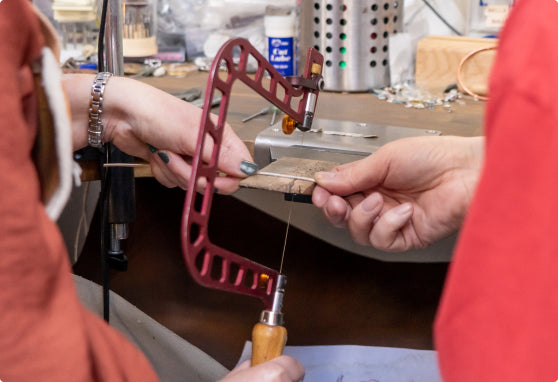 Jewellery Workshops
Regular price

From $163.00 USD

Regular price

Sale price

From $163.00 USD

Unit price

per

Beginners Jewellery Making Experience

A beginner's jewellery-making experience that allows you to take away your own handmade piece of work.

Regular price

From $194.00 USD

Regular price

Sale price

From $194.00 USD

Unit price

per

Lux Beginners Jewellery Making Experience

Jewellery making experience guided by our Ruth with your new jewellery piece either worn home or put into a jute bag with local scones and tray bakes and mini Nosecco to take away.

Regular price

From $232.00 USD

Regular price

Sale price

From $232.00 USD

Unit price

per

VIP Beginners Jewellery Making Experience

VIP Jewellery Making and Relaxation with behind the scenes tranquil time overlooking Belfast Lough. Plus wearing your creation home or putting it into a jute bag with some local scones and tray bakes and noseco. Did we mention the hosted time afterwards in our heated igloo?

Regular price

From $162.50 USD

Regular price

Sale price

From $162.50 USD

Unit price

per

Beginners Jewellery Making Experience - Gift Card

These are our electronic Gift Vouchers for the Jewellery Making Experience and if you need more information on the actual experience please click on the link below.

Beginners Jewellery Making Experience

These electronic gift vouchers are perfect if you are buying this as a gift for someone else and don't know when they want to come and have their jewellery making fun.


The way that these gift vouchers work is that you decide how many people you want to treat and select the appropriate option and then checkout.

You will then receive a code which you can then pass on to the lucky recipient.

At their convenience,  they then come back to our website, select the same experience and number of people that you purchased, pick the date of their choice and checkout entering the code you gave them.

Should they want more or fewer people to attend or have a different experience, then the gift card acts as credit and they can add to it on checkout, or liaise with us for a refund of any unspent monies.

We can also send you an 'old fashioned' physical gift certificate as well so that you have something to present to the lucky recipient on their birthday, anniversary, Christmas, Mothers', Fathers' or St Valentine's Day or just because they are special to you.

Just contact us with your order number, who the certificate is for, who is it from, your message and where you would like it posted.

Any questions, then just get in contact with us.